TORONTO, April 20, 2017 – It is time to prioritize homelessness prevention, says a new report from the Canadian Observatory on Homelessness (COH).
"We would never build our health care system around the emergency department only, so why would we think this way in addressing homelessness?" says York University professor Stephen Gaetz, Director of the COH, a national research institute based at York. "While there will always be a need for emergency services to help those in crisis, we need to focus on preventive strategies that address the many causes of homelessness, to reduce the number of people in Canada who experience the trauma of becoming homeless."

The report, A New Direction: A Framework for Homelessness Prevention, calls for adoption of a model similar to preventive health care, with policies, practices and interventions that reduce the likelihood someone will experience homelessness. Homelessness prevention also includes providing those who have been homeless with support to reduce the risk that they will become homeless again.
Some innovative Housing First policies are being used in parts of Canada to help people successfully exit homelessness, says Gaetz. To complement these efforts, and to stem the flow of people into homelessness in the first place, it is time to shift direction to prevention strategies, he says, and it is a particularly good time to do so. The federal government is working on the upcoming National Housing Strategy and seems to recognize the role of prevention, and several provinces including Ontario and Alberta have homelessness strategies that they have rolled out or are in the process of rolling out.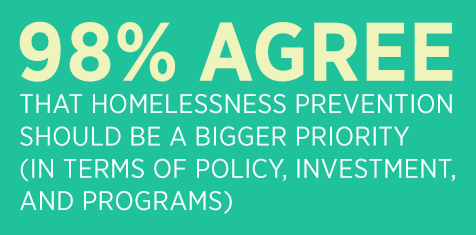 Communities have been asking for prevention strategies for a long time, said postdoctoral fellow Erin Dej, who co-authored the report with Gaetz.
"Currently, many individuals who leave institutional or state care of one form or another do not have housing or necessary supports, and so we transfer the problem from one sector to another, rather than stopping the flow into homelessness in the first place," she said. "We need prevention strategies that recognize that access to housing is a human right."
A rights-based approach will require the appropriate areas of government – health care, child protection, justice and others – to be responsible for their role in preventing people from becoming homeless, according to Gaetz and Dej.
Their Framework for Homelessness Prevention outlines an integrative systems approach to prevention, addressing the structural, systematic and individual factors that lead to homelessness. It identifies roles and responsibilities in the prevention of homelessness, from the policy level where structural barriers to housing are considered, to people who work with young people that are leaving child protection systems, to those providing assistance to prevent evictions.
The Canadian Observatory on Homelessness will consult on the report for about a year to highlight successful and innovative programs and approaches from Canada and internationally. The goal is to begin a national conversation about homelessness prevention and come up with practical solutions that will really make a change, says Gaetz, and to mobilize support from all levels of government, along with a commitment to changing the way we as a country address homelessness.
The Canadian Observatory on Homelessness is a non-profit, non-partisan research institute that is committed to conducting and mobilizing research so as to contribute to solutions to homelessness.  For more information: homelesshub.ca, @homelesshub
York University is known for championing new ways of thinking that drive teaching and research excellence. Our students receive the education they need to create big ideas that make an impact on the world. Meaningful and sometimes unexpected careers result from cross-discipline programming, innovative course design and diverse experiential learning opportunities. York students and graduates push limits, achieve goals and find solutions to the world's most pressing social challenges, empowered by a strong community that opens minds. York U is an internationally recognized research university – our 11 faculties and 26 research centres have partnerships with 200+ leading universities worldwide. Located in Toronto, York is the third largest university in Canada, with a strong community of 53,000 students, 7,000 faculty and administrative staff, and more than 295,000 alumni. York U's fully bilingual Glendon campus is home to Southern Ontario's Centre of Excellence for French Language and Bilingual Postsecondary Education. 
Media Contact:
Janice Walls, Media Relations, York University, 416-455-4710, wallsj@yorku.ca
Anjum Nayyar, Media Relations, York University, 416 736-2100 ext. 44543, anayyar@yorku.ca