TORONTO, June 21, 2016 — A monumental sculpture of an Inuit soccer player, embellished with silver eyes and holding a bronze walrus skull for a ball was unveiled today at York Lions Stadium. The soccer player, carved out of a 26-tonne rock, is poised in an Alaskan high-kick position – inspiration to athletes and spectators who will attend the North American Indigenous Games at York University next summer.
"It is wonderful to have the opportunity, on National Aboriginal Day, to celebrate Indigenous and Inuit culture in two such visible and powerful ways on our campus: by honoring Jeannette Corbiere Lavell with an honorary degree, and by unveiling this remarkable Inuit sculpture," said Mamdouh Shoukri, President and Vice-Chancellor, York University. "In a multicultural city such as Toronto, this sculpture will create opportunities for dialogue about Inuit art and culture – and we at York are delighted to be part of this important conversation."
Inuit artists Ruben Komangapik and Koomuatuk (Kuzy) Curley were commissioned to create the sculpture titled Ahqahizu as part of Mobilizing Inuit Cultural Heritage (MICH), a multi-media, multi-platform collaborative research and creation project supported by the Social Sciences & Humanities Research Council of Canada (SSSHRC.)
"Mobilizing Inuit Cultural Heritage celebrates the contribution of Inuit visual arts and performance to Inuit language preservation, social well-being, and cultural identity, says project lead Professor Anna Hudson in the Department of Visual Art and Art History, adding, "Working with the artists over this past year on the creation of Ahqahizu has been an exceptional realization of this celebration, and a deep intercultural learning opportunity. It has opened our campus to increased Indigenization of university education."
Kuzy, who has worked on the ambitious project since inception says, "We had to be very patient while carving to get the right balance when working on the motion of the bicycle kick, like floating in the air. This is a great example for Inuit people that we can accomplish anything if we are determined."
His colleague Komangapik agrees adding, "I am very happy to promote our culture and heritage through art with the help of MICH."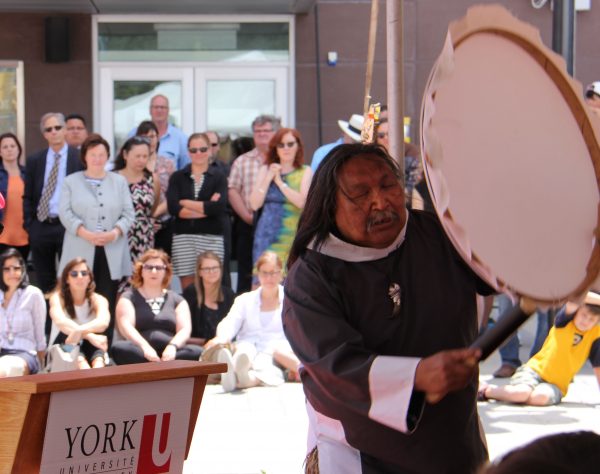 Iqaluit, Nunavut based Mathew Nuqingaq's traditional drumming opened a ceremonial event to unveil the sculpture. The event was attended by York U community members, government officials and other special guests including Josh Stribbel of Torontomiutaujugut, a newly formed Toronto based Inuit youth organization. Also in attendance was Native women's rights activist Lavell who received an honorary doctorate at York U's spring convocation this morning.
A highlight of the event was a performance by Inuk musician Susan Aglukark, who received the prestigious Governor General's Performing Arts Award just over a week ago. Traditional food served in a traditional manner was also part of the celebration.
Partner organizations include Nunavut software startup Pinnguaq, McMichael Canadian Art Collection, National Gallery of Canada, Nunavut Arctic College, Nunavut Department of Education, West Baffin Eskimo Cooperative  in Kinngait (Cape Dorset), and Norrbottens Museum in Luleå, Sweden.
York University has always been known for championing new ways of thinking that drive teaching and research excellence. Our 52,000 students receive the education they need to create big ideas that make an impact on the world. Meaningful and sometimes unexpected careers result from cross-discipline programming, innovative course design and diverse experiential learning opportunities. York students and our 283,000 alumni worldwide push limits, achieve goals and find solutions to the world's most pressing social challenges, empowered by a strong community that opens minds. York U is an internationally recognized research university – our 11 faculties and 25 research centres have partnerships with 200+ leading universities worldwide.
Media Contact:
Gloria Suhasini, York University Media Relations, 416 736 2100 ext. 22094, suhasini@yorku.ca