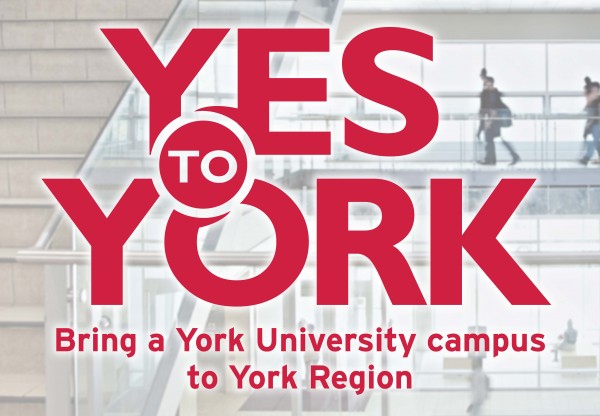 TORONTO, September 15, 2014 – Following last week's announcement of the proposed Markham location and funding commitments for a proposed campus, York University is asking all York Region residents to actively show support for the bid to the Ontario government.
"We need everyone's voice to build the case that York Region should be home to a new campus," says York University President and Vice-Chancellor Mamdouh Shoukri. "York Region is at the heart of Ontario's new knowledge economy and one of the fastest growing major urban centres. A new campus would help to address increasing demand – almost 60 per cent of young people in York Region go on to attend university and they should be able to fulfill their academic aspirations close to home."
People are asked to log on to www.yestoyork.ca to tell elected officials, particularly Premier Kathleen Wynne and Minister of Training, Colleges and Universities Reza Moridi, to Say Yes to York through social media channels – hashtag is #yestoyork – and via email. Residents can also sign up for email updates until the Province's decision, expected to be announced in early 2015.
York University will submit its proposal by the September 26th deadline in partnership with The Regional Municipality of York, the City of Markham and academic partner Seneca College. The Markham location was selected because it will be at the core of a robust urban centre with easy access to transit, major employers, research centres and the Markham Pan Am Centre.
York University is helping to shape the global thinkers and thinking that will define tomorrow. York U's unwavering commitment to excellence reflects a rich diversity of perspectives and a strong sense of social responsibility that sets us apart. A York U degree empowers graduates to thrive in the world and achieve their life goals through a rigorous academic foundation balanced by real-world experiential education. As a globally recognized research centre, York U is fully engaged in the critical discussions that lead to innovative solutions to the most pressing local and global social challenges. York U's 11 faculties and 27 research centres are thinking bigger, broader and more globally, partnering with 288 leading universities worldwide. York U's community is strong − 55,000 students, 7,000 faculty and staff, and more than 250,000 alumni.
-30-
Media Contact:
Joanne Rider, York University, 416-736-5593, jrider@yorku.ca