TORONTO, May 9, 2013 – York University President & Vice-Chancellor Mamdouh Shoukri today announced a $5 million donation from Ignat Kaneff, Chairman and CEO of the Kaneff Group of Companies, in support of the university's Lassonde School of Engineering. Including past donations, the Kaneff family has now committed almost $8 million to provide the learning environment of the future for students at York.
"York University is very thankful to Dr. Kaneff for his generous gift to the university for development of the Lassonde School of Engineering," said York U President and Vice-Chancellor Mamdouh Shoukri. "Dr. Kaneff's commitment to education that meets the future needs of our students and  our society is consistent with his outstanding contributions over decades as one of Canada's great builders and philanthropists."
T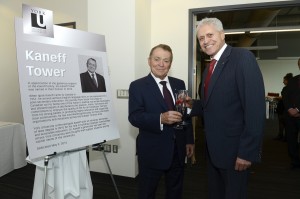 he research tower at York University has been named the Kaneff Tower in recognition of this commitment to York's Lassonde School of Engineering, which will open a new building in 2015.
Dr. Kaneff, who came to Canada in 1951 with little education or money, was awarded an honorary doctorate of laws by York's Osgoode Hall Law School in 2010 for his role in building Canadian communities and for his support of access to education.
"People were very good to me when I came to Canada," said Dr. Kaneff. "If we give young people the tools and education they need, things will be easier for the next generation. Canada needs professionals to ensure it remains competitive internationally, and the Lassonde School of Engineering at York will train people not for one project, but for a lifetime."
The Lassonde School of Engineering at York University will offer a new type of engineering education.
"Dr. Kaneff's generosity will help us to educate a new generation of entrepreneurial engineers who, like Iggy, have a social conscience and the passion to achieve their dreams," said Janusz Kozinski, dean of the Lassonde School of Engineering.
York University is helping to shape the global thinkers and thinking that will define tomorrow. York's unwavering commitment to excellence reflects a rich diversity of perspectives and a strong sense of social responsibility that sets us apart. A York U degree empowers graduates to thrive in the world and achieve their life goals through a rigorous academic foundation balanced by real-world experiential education. As a globally recognized research centre, York is fully engaged in the critical discussions that lead to innovative solutions to the most pressing local and global social challenges. York's 11 faculties and 28 research centres are thinking bigger, broader and more globally, partnering with 288 leading universities worldwide. York's community is strong − 55,000 students, 7,000 faculty and staff, and more than 250,000 alumni.
Media Contact:
Janice Walls, Media Relations, York University, 416 736 2100 ext. 22101 / wallsj@yorku.ca