TORONTO, October 10, 2012 – York University researcher Caitlin Fisher, associate professor in the Department of Film and Canada Research Chair in Digital Culture, has received a Fulbright Award to conduct advanced research in the US on augmented reality and data visualization.
As Fulbright Visiting Research Chair at the University of California - Santa Barbara from March to June 2013, Fisher will be conducting research on a project titled Emerging forms of cultural expression: data visualization, augmented reality and new media storytelling and tools for artists and humanists.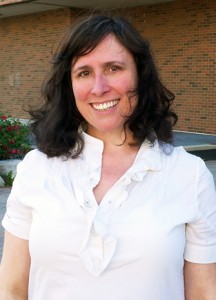 "On behalf of the York research community, I would like to congratulate Professor Fisher on her receipt of this prestigious award," said Robert Haché, York's Vice-President Research & Innovation. "This recognition of her exceptional research accomplishments is fitting and richly deserved."
Fisher is the director of the Augmented Reality Lab in York University's Future Cinema Lab, a collaborative research facility in the Faculty of Fine Arts that she co-founded. Her research focuses on investigations into the future of narrative through explorations of interactive storytelling and interactive cinema in AR environments. Her work in the AR Lab includes theoretical and practical research to construct spatial narrative environments and expressive software tools for artists. Increasingly, her work also involves dealing with large repositories of data and exploring knowledge domain and interactive, immersive visualization and Fisher sits on the executive of the joint York University/ OCADU Centre for Innovation in Information Visualization and Data-Driven Design (CIV-DDD) – the preeminent research hub for innovation and training in information and scientific visualization in Ontario.
"This is an amazing opportunity to share what we're doing here at York and to collaborate with some incredible people," says Fisher.  "I look forward to coming back with a new perspective on my work."
"It is with a great deal of pleasure that I welcome Dr. Fisher to the distinguished group of Fulbright scholars," says Dr. Michael K. Hawes, executive director of Fulbright Canada and an alumnus of the program. "Her research will undoubtedly make meaningful and significant contributions by taking computer science techniques and applying them in new disciplinary contexts."
Fisher will be spending part of her research residency at UCSB's Allosphere, a large-scale, fully-immersive, 360o virtual reality environment focusing on multiple sensory modalities that deliver hi-res, interactive 3D video and audio streams from scientific data in real-time.
"Professor Fisher is working at the leading edge of an emerging field, exploring new ways to visualize and make meaningful the information stored in large data sets," said Professor Michael Longford, associate dean - research in the Faculty of Fine Arts. "We are certain that, through her research facilitated by the Fulbright, she will make an important contribution to the ongoing development of data visualization as a new form for creative expression and platform for humanities research and scientific inquiry."
The Fulbright program is an educational movement based on the principle of scholarly exchange between the United States and other countries. Operating in more than 150 nations, the Fulbright program is one of the world's premier academic exchange programs. With the support of the Department of Foreign Affairs and International Trade Canada and the United States Department of State, the Canada-US Fulbright Program offers academic exchanges and intellectual opportunity.
-30-
York University is helping to shape the global thinkers and thinking that will define tomorrow. York's unwavering commitment to excellence reflects a rich diversity of perspectives and a strong sense of social responsibility that sets us apart. A York U degree empowers graduates to thrive in the world and achieve their life goals through a rigorous academic foundation balanced by real-world experiential education. As a globally recognized research centre, York is fully engaged in the critical discussions that lead to innovative solutions to the most pressing local and global social challenges. York's 11 faculties and 28 research centres are thinking bigger, broader and more globally, partnering with 288 leading universities worldwide. York's community is strong − 55,000 students, 7,000 faculty and staff, and more than 250,000 alumni.
Media Contact:
Arielle Zomer, Research Communications, York University, 416 736 2100 x21069 / azomer@yorku.ca
Janice Walls, Media Relations, York University, 416 736 2100 x22101 / wallsj@yorku.ca