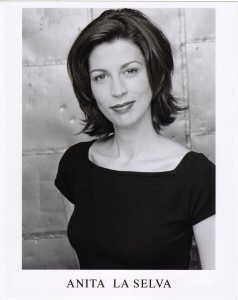 TORONTO, March 2, 2011 − Theatre @ York's season finale is the Jacobean drama The Witch of Edmonton, running March 20 to 26 in the Sandra Faire and Ivan Fecan Theatre at York University.
Penned by William Rowley, Thomas Dekker and John Ford in 1621, the play was based on an actual person and supposedly real-life events that gripped the village of Edmonton, near London, earlier that year.
Director Anita La Selva sets this sensational "tabloid" story in the ultra-conservative, postwar American Midwest circa 1950. The plot entwines two rather lurid small-town criminal cases: the antics of the titular witch, Mother Sawyer, and her devil-familiar, and the wretched moral predicament faced by a very unheroic young man named Frank Thorney.
Looking at the plight of these two central characters, La Selva saw strong similarities in the way non-conformists were persecuted and ostracized in the play's original 17th century English setting and in mid-20th century American society where Theatre @ York's production unfolds.
"With widespread intolerance, anti-Communism and hypocrisy couched in the preservation of the moral order, early 1950s America offers a parallel world where the persecution of a "witch" was both believable and acceptable," La Selva said.
"Both eras were times of huge social and economic upheaval. Both stressed the prevalence of diabolism in the community – the need for personal salvation – and the idea that the moral weaknesses of women made them vulnerable to temptation and sin. The social and cultural anxieties of the day promoted a culture of fear and scapegoating." 
When La Selva first read The Witch of Edmonton she was struck by the sense that the moral transgressions of the individuals in the play were a direct result of the social and religious pressures thrust upon them by their community.
"Society had a moral responsibility to care for its inhabitants, including those who had strayed from the fold and were in need of charity," said La Selva. "Why, then, did it do just the opposite?  And why did I feel that I had heard this story many times before?"
It is the universality of these themes that underpins La Selva's approach to the production. "How far is a society willing to go to preserve what it thinks is best for its citizens? " she asks. "And does marginalizing and persecuting those who transgress the boundaries of social, moral and religious conformity actually serve to rid us of evil in the world?"
La Selva, who is currently completing her MFA in directing in York's Department of Theatre, is a Toronto-based actor and director. As a performer, her stage credits include Madre (Aluna Theatre), The Carpenter, Carmela's Table (Centaur Theatre) and Bye Bye Baby (Imago Theatre/Centaur), and her television credits include four years on Gene Roddenberry's Earth: Final Conflict. She recently directed The Burning Bush for Toronto's Young Centre for the Performing Arts and the Toronto Fringe (where it won Best of the Fringe), Vancouver's Chutzpah Festival, and the New York City Frigid Festival, where it won the Audience Choice award.
Theatre @ York's production of The Witch of Edmonton features a number of hymns in new arrangements sung by the cast of outstanding actors from the Department of Theatre. A creative team of undergraduates handling all aspects of the production design and execution including the music.
Now in its 42nd season, Theatre @ York is one of Toronto's longest-running theatre companies. Every year, the company features some of Canada's most promising performance and production talent in a challenging and entertaining slate of plays drawn from the contemporary and classical repertoire.
Based in the Department of Theatre at York University, the company has been a springboard for a generation of outstanding Canadian theatre artists. Theatre @ York alumni include stage and screen actors Rachel McAdams, Thom Marriott, Tamara Bernier, Patrick Galligan, Melody Johnson, Deborah Hay, Maurice Dean Wint and Christine Horne; playwrights Djanet Sears and Diane Flacks; and directors Richard Rose and Jillian Keiley.
_____________________
 What: Theatre @ York presents The Witch of Edmonton, directed by Anita La Selva
When:  March 20-26, opening Tuesday, March 22
Schedule: Previews March 20 and 21 at 7:30pm; Opens March 22 and runs to March 26 at 7:30pm nightly, plus matinees March 23 and 25 at 1pm.
Where: Sandra Faire and Ivan Fecan Theatre, Accolade East Building York University, 4700 Keele St. | Map
Admission: $17 | students & seniors $12 | Previews $5
Box Office: 416.736.5888 | www.yorku.ca/perform/boxoffice 
York University is the leading interdisciplinary research and teaching university in Canada. York offers a modern, academic experience at the undergraduate and graduate level in Toronto, Canada's most international city. The third largest university in the country, York is host to a dynamic academic community of 50,000 students and 7,000 faculty and staff, as well as 200,000 alumni worldwide. York's 10 Faculties and 28 research centres conduct ambitious, groundbreaking research that is interdisciplinary, cutting across traditional academic boundaries. This distinctive and collaborative approach is preparing students for the future and bringing fresh insights and solutions to real-world challenges. York University is an autonomous, not-for-profit corporation.
Media Contact:
Amy Stewart, Communications, Faculty of Fine Arts, York University
416-650-8469, amy.stewart@yorku.ca