TORONTO, Tuesday, May 23, 2017 – Some preeminent scholars believe Karl Marx's ideas resonate more strongly today than in his own time. They will debate the issues at an upcoming York University conference, Marx's Capital after 150 Years: Critique and Alternative to Capitalism, May 24 to 26.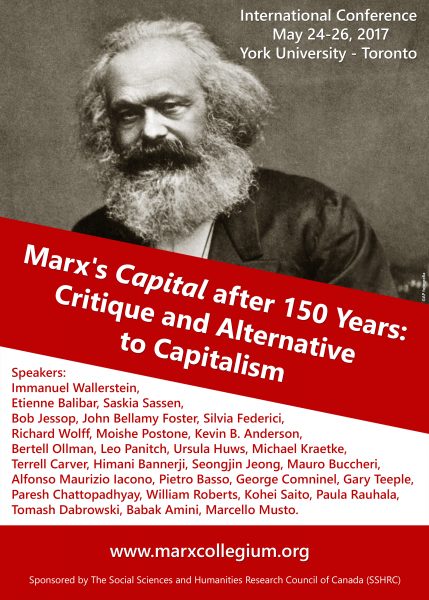 The conference will bring together renowned sociologists, political theorists, economists and philosophers from around the world to discuss differing perspectives on contemporary capitalism and alternative economic and social models.
A roundtable on Marx's seminal work, Capital, will kick off the conference Wednesday at 4pm with scholars, including conference organizer York U Associate Professor Marcello Musto of the Faculty of Liberal Arts & Professional Studies.
The conference will explore issues around understanding violence against women in a neoliberal era, what would happen if Capital had been written today, how is Capital incomplete, the neglected chapters on wages, Marx's unpublished works and more.
WHAT: Conference – Marx's Capital after 150 Years: Critique and Alternative to Capitalism
WHO: Global and York U scholars presenting and debating Marx at daily sessions, including "Beyond Labour and Capital" and "Which Marx for Today?"
For a complete list of sessions and speakers, click here.
WHEN: Wednesday, May 24 to Friday, May 26
WHERE: Senate Chamber, 940 Ross Building North and Lecture Rooms A & C, Vari Hall, Keele campus, York University (see numbers 28 & 30 on the map)
-30-
York University is known for championing new ways of thinking that drive teaching and research excellence. Our students receive the education they need to create big ideas that make an impact on the world. Meaningful and sometimes unexpected careers result from cross-discipline programming, innovative course design and diverse experiential learning opportunities. York students and graduates push limits, achieve goals and find solutions to the world's most pressing social challenges, empowered by a strong community that opens minds. York U is an internationally recognized research university – our 11 faculties and 26 research centres have partnerships with 200+ leading universities worldwide. Located in Toronto, York is the third largest university in Canada, with a strong community of 53,000 students, 7,000 faculty and administrative staff, and more than 295,000 alumni. York U's fully bilingual Glendon campus is home to Southern Ontario's Centre of Excellence for French Language and Bilingual Postsecondary Education.
Media Contact:
Sandra McLean, York University Media Relations, 416-736-2100 ext. 22097, sandramc@yorku.ca