TORONTO, June 22, 2018 ─ Indigenous law scholar John Borrows, who is internationally acclaimed for his publications, research and community activism, was recognized with an honorary doctor of laws degree from York University today.
Borrows, who received his honorary degree during Osgoode Hall Law School's spring convocation ceremony, has had a celebrated academic career at several eminent institutions. Currently, he holds a Canada Research Chair in Indigenous Law at the University of Victoria Law School and the Nexen Chair in Indigenous Leadership at the Banff Centre for Arts and Creativity.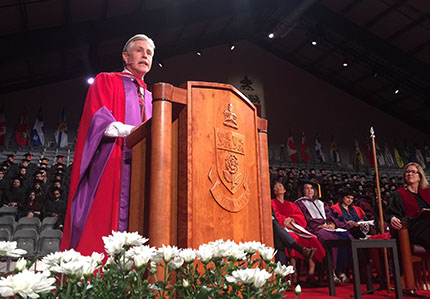 He is a member of the Chippewa of the Nawash First Nation and each year, he hosts a law camp for 50 Osgoode students, introducing them to Anishinaabek law. The camp uses a range of activities designed to immerse students in understanding Anishinaabek law and enlighten them to critical thinking.
The author of seven books and more than 60 papers, Borrows' research has shaped the recommendations of both the Truth and Reconciliation Commission and the Royal Commission on Aboriginal Peoples. He is a Fellow of the Trudeau Foundation, a recipient of an Aboriginal Achievement Award in Law and Justice, a Fellow of the Academy of Arts, Humanities and Sciences of Canada, and a recipient of the Killam Prize in Social Sciences by the Canada Council for the Arts.
York University champions new ways of thinking that drive teaching and research excellence. Our students receive the education they need to create big ideas that make an impact on the world. Meaningful and sometimes unexpected careers result from cross-disciplinary programming, innovative course design and diverse experiential learning opportunities. York students and graduates push limits, achieve goals and find solutions to the world's most pressing social challenges, empowered by a strong community that opens minds. York U is an internationally recognized research university – our 11 faculties and 25 research centres have partnerships with 200+ leading universities worldwide. Located in Toronto, York is the third largest university in Canada, with a strong community of 53,000 students, 7,000 faculty and administrative staff, and more than 300,000 alumni. York U's fully bilingual Glendon Campus is home to Southern Ontario's Centre of Excellence for French Language and Bilingual Postsecondary Education.
Media Contact: Janice Walls, Media Relations, York University, 416 455 4710, wallsj@yorku.ca