TORONTO, Thursday, November 30, 2017- York University's Lassonde School of Engineering will host a special event to commemorate the National Day of Remembrance and Action on Violence Against Women with a ceremony on Friday December 1, 2017.  This event will commemorate the lives of 14 women who were killed at Montreal's École Polytechnique on December 6, 1989.
 The event will feature special guest, Toronto Star science and technology journalist and York University's Faculty of Science first "Science Communicator in Residence" Kate Allen.  Allen will speak about women in STEM and in the media.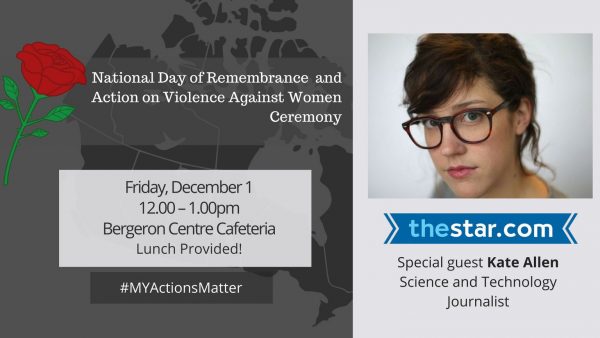 As well as paying tribute to the 14 women who were killed as a result of gender-based violence, this day represents an opportunity for Canadians to reflect on the causes of violence against women and others who are marginalized in our society. The event was produced using Lassonde's recently developed online tool, the inclusion lens.
This pan-university ceremony is open to the media. It will be a collaborative initiative between York's President and Vice-Chancellor Rhonda L. Lenton, the Lassonde School of Engineering, the Centre for Human Rights, Equity and Inclusion, the Office of Student Community Relations, and the Department of Community Safety.
Date: Friday, December 1, 2017
Time: 12:00pm – 1:00pm
Location: First Floor Café, Bergeron Centre for Engineering Excellence
Follow the conversation at #MyActionsMatter.
York University champions new ways of thinking that drive teaching and research excellence. Our students receive the education they need to create big ideas that make an impact on the world. Meaningful and sometimes unexpected careers result from cross-disciplinary programming, innovative course design and diverse experiential learning opportunities. York students and graduates push limits, achieve goals and find solutions to the world's most pressing social challenges, empowered by a strong community that opens minds. York U is an internationally recognized research university – our 11 faculties and 25 research centres have partnerships with 200+ leading universities worldwide. Located in Toronto, York is the third largest university in Canada, with a strong community of 53,000 students, 7,000 faculty and administrative staff, and more than 300,000 alumni. York U's fully bilingual Glendon Campus is home to Southern Ontario's Centre of Excellence for French Language and Bilingual Postsecondary Education.
Media Contact:  Anjum Nayyar, York University Media Relations, 416 736 2100 ext. 44543 anayyar@yorku.ca