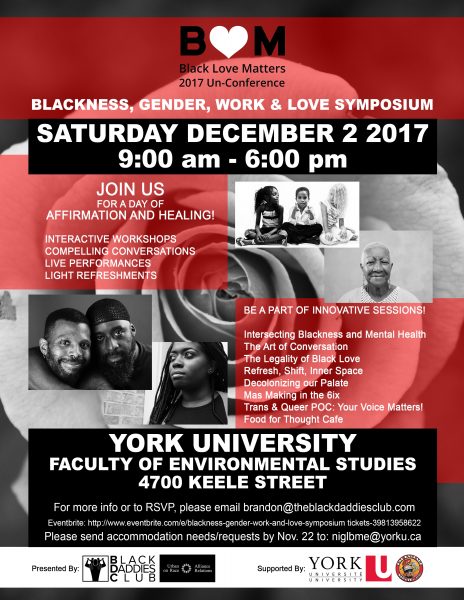 TORONTO, Thursday, Nov. 30, 2017 – Blackness, Gender, Work, and Love is a symposium on Saturday that looks at what can happen when a Faculty of Environmental Studies urban planning course at York University reaches deep into Black communities, including a group of downtown LGBTQ ballroom dancers.
The symposium is a culmination of an initiative at York U that had planning students engaging and building relationships with members of Black communities in the GTA, and beyond, to better inform city planning in the future.
Students in the course, Planning in Toronto: Black Love Matters 2017 Un-Conference, explored infrastructural challenges faced by the African, Caribbean & Black Canadian community in the GTA.
The course this year was co-taught by Brendon Hay, a graduate of the Master in Environmental Studies program at York U and founder of the Black Daddies Club, and Nigel Barriffe, president of the Urban Alliance on Race Relations. Both are available for interviews this week.
Students created plenaries for the symposium with community members, community-based organizations, government agencies, community based artists and activists. They include the following:
Making Mas in the 6ix – This is a collaborative, community-driving workshop that unpacks the challenges, opportunities and significance of making mas in Toronto and Carnival in general in Canada.
Trans and Queer People of Colour: Your Voice Matters! –This podcast seeks to engage panellists in examining how LGBT2SQ+ organizations and communities have racialized their agendas so that freedoms are not extended to those outside of the traditional, homonormative and societal discourse.
The Weight of Black Pain – Looks at the intersection of Blackness and mental health from childhood onwards, what services are available for Black families and the biases they encounter.
Legality of Black Love – This plenary explores the intersection of love, intimacy, sexual ideology and private law through podcasting, videography and photo journaling with participants looking at anti-Black sentiments.
WHAT: Blackness, Gender, Work, and Love Symposium, closing event for thePlanning in Toronto: Black Love Matters 2017 Un-Conference course at York University.
WHO: Students of the course, along with co-instructors Brendon Hay and Nigel Barriffe.
WHEN: Saturday, Dec. 2, from 9:30am to 4:30pm
WHERE: First floor of Health, Nursing, Environmental Studies building, Keele campus, York University. See number 31 on the Map.
-30-
York University is known for championing new ways of thinking that drive teaching and research excellence. Our students receive the education they need to create big ideas that make an impact on the world. Meaningful and sometimes unexpected careers result from cross-discipline programming, innovative course design and diverse experiential learning opportunities. York students and graduates push limits, achieve goals and find solutions to the world's most pressing social challenges, empowered by a strong community that opens minds. York U is an internationally recognized research university – our 11 faculties and 26 research centres have partnerships with 200+ leading universities worldwide. Located in Toronto, York is the third largest university in Canada, with a strong community of 53,000 students, 7,000 faculty and administrative staff, and more than 295,000 alumni. York U's fully bilingual Glendon campus is home to Southern Ontario's Centre of Excellence for French Language and Bilingual Postsecondary Education.
Media contact:
Sandra McLean, York University Media Relations, 416-736-2100 ext. 22097, sandramc@yorku.ca