TORONTO, October 24, 2019 – Eight outstanding books have been chosen for this year's Canadian Jewish Literary Awards. Creators of these works will be honoured at a presentation ceremony hosted by York University on Sunday, Oct. 27 at 2 p.m.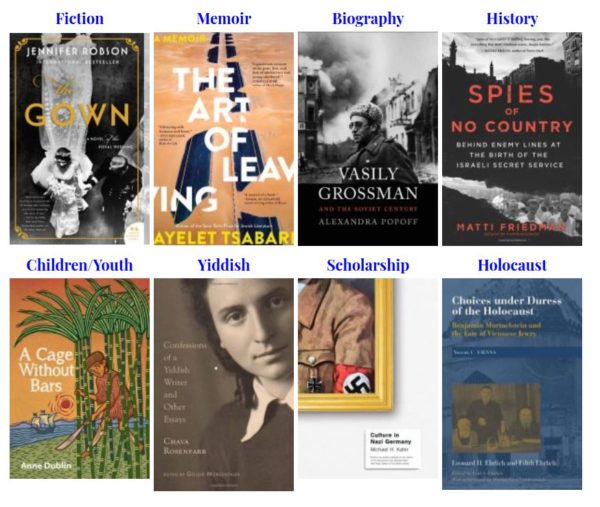 The free public event will be a venue to meet the winning authors, including Professor Emeritus Michael Kater of the Faculty of Liberal Arts & Professional Studies.
"The honorees, living around the world, are bestselling Canadian authors and their books reflect the vibrancy of the culture and the appeal of Jewish themes for fiction and non-fiction writing," said Jury Chair, Edward Trapunski.
The awards program, now in its fifth year, is sponsored in part by York's  Israel and Golda Koschitzky Centre for Jewish Studies. It recognizes Jewish writing in a number of categories: fiction, memoir, biography, history, scholarship, Holocaust, Yiddish, and books for children and youth. History and Humanities Professor Carl S. Ehrlich, editor of the winner in the Holocaust category, is also among the honorees.
WHAT: 2019 Canadian Jewish Literary Awards ceremony
WHEN: Sunday, Oct. 27, 2019, 2 p.m.
WHERE: Tribute Communities Recital Hall, Accolade East Building, York University Keele Campus (building number 92 on the map)
WHO:
Fiction: Jennifer Robson for The Gown: A Novel of the Royal Wedding (HarperCollins)
Memoir: Ayelet Tsabari for The Art of Leaving (Harper/Collins)
Biography: Alexandra Popoff for Vasily Grossman and the Soviet Century (Yale University Press)
History: Matti Friedman for Spies of No Country: Behind Enemy Lines at the Birth of the Israeli Secret Service (Signal/McClelland & Stewart)
Children/Youth: Anne Dublin for A Cage Without Bars (Second Story Press)
Yiddish: Chava Rosenfarb for Confessions of a Yiddish Writer and Other Essays (McGill-Queen's University Press)
Scholarship: Michael Kater for Culture in Nazi Germany (Yale University Press)
Holocaust: Leonard and Edith Ehrlich, Carl S. Ehrlich, editor for Choices Under Duress of the Holocaust: Benjamin Murmelstein and the Fate of Viennese Jewry Volume I: Vienna (Texas Tech University Press)
York University champions new ways of thinking that drive teaching and research excellence. Our students receive the education they need to create big ideas that make an impact on the world. Meaningful and sometimes unexpected careers result from cross-disciplinary programming, innovative course design and diverse experiential learning opportunities. York students and graduates push limits, achieve goals and find solutions to the world's most pressing social challenges, empowered by a strong community that opens minds. York U is an internationally recognized research university – our 11 faculties and 25 research centres have partnerships with 200+ leading universities worldwide. Located in Toronto, York is the third largest university in Canada, with a strong community of 53,000 students, 7,000 faculty and administrative staff, and more than 300,000 alumni.
York U's fully bilingual Glendon Campus is home to Southern Ontario's Centre of Excellence for French Language and Bilingual Postsecondary Education.
Media Contacts:
Janice Walls, York University Media Relations, 416.455.4710, wallsj@yorku.ca
Edward Trapunski, Chair, Canadian Jewish Literary Awards jury, 416.720.4700, info@cjlawards.ca