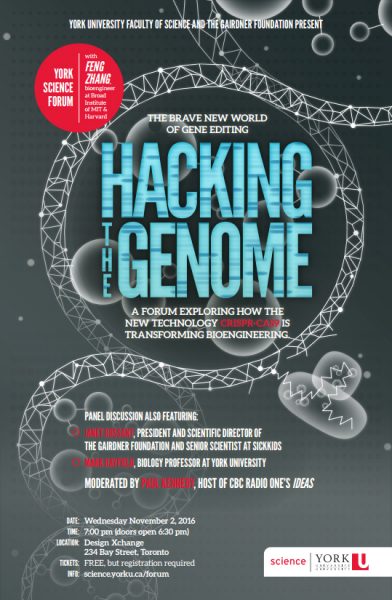 TORONTO, Nov. 1, 2016 – Snipping and slicing human genomes is no longer relegated to science fiction. Listen to pioneering bioengineer Feng Zhang talk about new gene editing technology, CRISPR-Cas9 and how it is transforming the world of bioengineering this Wednesday.
Zhang, a bioengineer at Harvard and MIT as well as a 2016 Gairdner International award winner, co-developed the CRISPR technology. He will deliver the keynote talk at the York Science Forum: Hacking the Genome, hosted by York U Faculty of Science and the Gairdner Foundation.
Following the talk, there will be a panel discussion on genome editing with Zhang; University of Toronto Professor Janet Rossant, president and scientific director of the Gairdner Foundation and senior scientist at SickKids; and York U biology Professor Mark Bayfield.
Paul Kennedy, host of CBC Radio One's show Ideas, will moderate the event.
WHAT: York Science Forum: Hacking the Genome
WHEN: Nov. 2 at 6:30 pm
WHERE: Design Xchange, 234 Bay Street, Toronto
For more information: http://science.yorku.ca/forum
-30-
York University is known for championing new ways of thinking that drive teaching and research excellence. Our students receive the education they need to create big ideas that make an impact on the world. Meaningful and sometimes unexpected careers result from cross-discipline programming, innovative course design and diverse experiential learning opportunities. York students and graduates push limits, achieve goals and find solutions to the world's most pressing social challenges, empowered by a strong community that opens minds. York U is an internationally recognized research university – our 11 faculties and 26 research centres have partnerships with 200+ leading universities worldwide. Located in Toronto, York is the third largest university in Canada, with a strong community of 53,000 students, 7,000 faculty and administrative staff, and more than 295,000 alumni. York U's fully bilingual Glendon campus is home to Southern Ontario's Centre of Excellence for French Language and Bilingual Postsecondary Education.
Media Contact:
Sandra McLean, York University Media Relations, 416-736-2100 ext. 22097, sandramc@yorku.ca